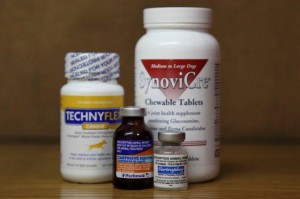 With the cold weather approaching it is important to keep your pet in a comfortable living environment.  Sudden fluctuations in temperature variation can often be quite stressful to your pet's immune system and health. In particular, older pets, will be quite susceptible to cold related diseases such respiratory related problems and hypothermia.
One common disease, which will usually affect the older pet, is arthritis. Arthritis in most cases is associated with joint pain. Many pet owners will notice this with their pets for the first time during the colder months, when they suddenly do not appear as active or have difficulty walking.  They may find that they are especially uncomfortable when the temperature is coolest in the evening or first thing in the morning.
Arthritis is a progressive disease and in many cases cannot be cured. If treated early it may be possible to slow the progression of the disease.  In some cases antibiotics may be required to treat arthritis and there are many forms of conservative and pain treatments available to treat a patient with.
A veterinarian can help you determine the cause and severity of arthritis with examination and other procedures such as blood testing and x-ray.
寒冷天氣與關節炎
寒冷的天氣又到了, 是時候為你的小寶貝準備一個舒適溫暖的安樂窩了!小寶貝的免疫系統和健康最容易受到乍暖還寒的天氣威脅,特別是"長者",寒冷是牠們的敵人,會引發起一些如,呼吸系統和低溫症的問題.
關節炎是常見會影響年長寶貝的疾病.最常見的病徵是關節痛.很多主人會在寒冷天氣來臨時,察覺到寵物突然間減少了活動,或行動困難.尤其是夜晚和清晨溫度最寒冷時,牠們會容易感覺到不舒服和打震.
關節炎是持續的疾病,雖然並非一定能治癒,但及早治療可減輕症狀和延緩病情的發展.治療包括各種止痛消炎藥和不同類形的非藥物性治療,有時甚至需要服用抗生素.
透過診症和其他程序,如血液驗查,x-光,我們的獸醫可替你的寶貝找出關節炎的成因和程度.
Filed under: Pet Problems
Trackback: Uri