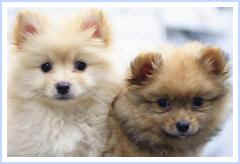 When first choosing a puppy it is important to choose one that appears healthy.  If it is from a pet shop. it should have a proper vet's vaccination certificate.
購買小狗的標準,最重要是選擇一隻(健康)的,並且必須持有註冊獸醫注射的防疫證明書一張.
It should have no signs of coughing or sneezing, no eye or nose discharge and there should be no signs of hair loss or redness of the skin.  It should be bright alert and playful.  You may be able to ask Green Cross to check the puppy for before you purchase.
選擇的時候,要挑選沒有打嘖嘖,沒有流眼水鼻水,同時沒有脫毛或皮膚紅腫的狗隻.牠應表現活潑,機靈,頑皮.
Once the puppy has been purchased and introduced to it's new environment, such as your home, it will be under a great deal of stress.  It will require time to adjust and will require a lot of your time and attention.  Do not wash the puppy at this time as this will cause further stress and increase it's chances of contracting one of the many transmissible diseases.
可以請獸醫代你檢查牠的健情況.  你買了一隻小狗後,把牠帶到一個新環境,例如住進你的家,小狗通常都會感到很緊張,需要一段時間去適應,也需要你多用時間去陪牠.在這個時期不要替牠洗澡,因為這樣做會令小狗更緊張,而且也會增加牠感染傳染性疾病的機會.
It is important to realize that if the puppy has already contracted a transmissible disease the disease may not appear at the time of your purchase of the pet.  Sometimes the disease may be in a transient state and may only surface a few weeks later.  It is important the the puppy is kept well fed and kept in a comfortable environment to allow the puppies own immune system to develop well.  The puppies immune system is a key factor in avoiding and fighting potentially fatal diseases.
有一點大家要非常小心,有些小狗可能在你購買時已經受到感染但仍未浮現病徵.因為有些疾病是有潛伏期,可能
過數天甚至數星期才有病徵,所以提供充足食物及舒適的居住環境給小狗,從而令牠的免疫系統好好地發展.小狗
的免疫系統是一個對抗及預防致命疫病的非常重要因素.
The puppy will be exposed to diseases that are spread in the air, by contract with other dogs and also by contaminants such as saliva and faeces.  The puppy should be confined in your house and kept away from other dogs and away from other areas where other dogs have been.  It should only be released from this confinement once the necessary vaccinations have been given.  This must be done by a qualified veterinarian registered with the Agriculture, Fisheries and Conversation Department.
空氣與其他狗隻的接觸,唾液和糞便的污物,都會容易令小狗受到感染,因此你應該將小狗留在家中,不讓牠與其他
狗隻接觸,也不要帶牠到其他狗隻可能會出沒的地方,直至牠已接受了一切必需的防疫注射.所有防疫注射必須由
已在香港漁農自然護理署登記,合格獸醫主持.  在香港狗隻常會感染到的疾病有:
Parvovirus 腸炎
Often fatal.  Signs to look for include severe diarrhoea with blood and vomiting.  Especially serious in breeds such as Rottweilers and Dobermanns.  Death can result within 48-72 hours if not treated immediately.  It is transmitted by faeces, indirect faecally contaminated shoes and kennels as well as direct contact.  Puppies from unvaccinated mothers have a higher chance of contracting the disease.
這種病毒會致命.病徵包括嚴重腹瀉,糞便中帶血,嘔吐.狗隻中以洛威拿和都柏文最容易受到感染.如果不立即醫治,
狗隻會在四十八至七十二小時內死亡.這種病毒可以由糞便傳播,包括直接接觸糞便,或間接接觸到給糞便弄污的鞋
隻和狗舍.如果狗媽媽不曾接受防疫注射,小狗受感染的機會更大.
*
Distemper 狗瘟
A frequently fatal disease spread by inhalation, usually in dogs less than one year old.  Watery/mucoid  discharge from the nose and eyes, vomiting and diarrhoea (sometimes blood).  Later nervous signs can appear such as twitching of muscles and convulsions.
這種通常可致命的疾病由空氣傳染的機會最大.病徵包括流眼水鼻水,或者鼻涕,嘔吐,腸瀉(有時糞便中帶血),稍後更有神經受到影響的病徵出現,如肌肉抽搐痙攣等.
*
Infectious Canine Hepatitis 傳染性犬肝炎(犬線病毒第一類)
Excreted in saliva, faeces and urine.  Ingestion is the most likely source; may only be general malaise or loss of appetite, fever or sudden collapse, pale gums, corneal oedema "blue eye"
由唾液,糞便和尿液排出.主要因進食不乾淨的食物引起.病徵可能只是感到不適或胃口不佳,發熱或虛脫,齒銀無血色,角膜浮腫(俗稱'藍眼').
*
Kennel Cough (CAV2/Parainfluenza) 狗房咳(CAV2)
Usually pup is still bright and alert and eating well.  Transmission from other dogs by inhalation; soft dry cough which can worsen with some watery mucous discharge.  If not treated can develop severe pneumonia with fever which may lead to death.
染病的小狗一般仍會活潑機警,胃口良好.通常經空氣由其他狗隻傳染.病徵包括輕咳嗽,有鼻水或者有鼻涕流出.如果不加治理,會演變成肺炎 發熱,至終可能致命.
*
Leptospirosis 鉤端螺旋體病
Infection often from contaminated urine.  Sudden onset of fever, jaundice and extreme depression; may show vomiting, thirst and blood stained diarrhoea.  Mucous membranes may have small hemorrhages.
通常由受到有病菌的尿液傳播.受到感染後,會突然發熱 出黃疸和情緒極度低落,有時會有嘔吐,口渴,腹瀉(便中有血).
粘膜可能會有輕微出血現象.
*
Rabies 狂犬病
It is a legal requirement for all dogs to be inoculated against rabies as it is a zoonosis, which means it is transmissible to humans.  It is fatal once signs appear.
根據法例規定,所有狗隻都需要接受狂犬病防疫注射,因為狂犬病屬於一種動物傳染病,可以將病菌傳染給人類,同時一旦
病徵顯露,即不可醫治.
*
Heartworm 犬心蟲(心絲蟲)
A parasite that lives inside the dogs blood vessels and heart.  Preventative treatment is available.  For more information go here.
犬心蟲為一種寄生蟲,由蚊蟲傳播,寄居於狗隻的血管和心臟內,有效的預防方法可. 往這裡
以上所列全屬嚴重疾病,預防是最佳的治療方法,請按照獸醫的指示,給你的小狗作防疫注射.若你的小狗有以上任可列出的臨床病徵,請立即延醫診治.
Filed under: Pet Problems
Trackback: Uri