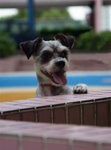 Hong Kong summers can be extremely uncomfortable when humidity levels become very high. Not only unbearable for us, but spare a thought for a shaggy Chow Chow, Pomeranian or fluffy Persian. Not only that, have you seen a dog or cat sweat before?
香港的又濕又熱的夏日會令到我們很辛苦,何況毛茸茸的鬆師狗,松鼠狗和波斯貓!?但是你們有無見過貓狗流汗嗎?
Actually they do sweat, but it is limited to the underpads of their feet. Sweating is one good way to keep your body temperature under control. As your sweat gets evaporated away it helps to draw the heat away from you. If your sweat glands are only available on your feet it is hardly an efficient way to cool your body down.
事實上牠們會流汗的,只是局限在腳板底,流出來的汗在蒸發時可以帶走身體上的熱力,從而調節體溫.如果汗線只在你的腳板底,就真的難有效降低溫度了.
Generally dogs and cats will try to cool themselves down by panting. The act of rapidly breathing helps to draw hot air away from them. The movement of air will also help draw the heat from the vascular blood supply of their tongue. This process has it's limits though. You can only breath rapidly up to a certain rate before your breathing becomes too shallow to be of any use and your excessive muscle movements also contributes to the production of heat as well.
通常貓狗是靠張口喘氣來冷卻自己.急速的呼吸有助排出體內的熱空氣,同時流動的空氣還可將熱力從脷上的血管帶走.但這個過程是有限制的,因為當呼吸到某個頻率時,呼吸就會變淺,而有效的空氣流動會消失,還有,過量的肌肉運用會產生更多熱力.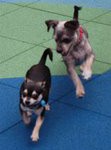 Heat stress comes about when your body is unable to stop the ongoing rise in body temperature. In extreme circumstances organ damage will occur has the body literally begins to burn up. If body temperature rise to 150F or 41C organ damage will lead to organ failure and can be fatal! Annually we will see many cases of heat stress to varying degrees.
當身體不可以控制不斷上升的體溫時,中暑現象就會發生,在極端的情況下,過高的體溫會"灼熟"體內的器官.體溫升到150F或41C時,器官會開始受到破壞至死亡,每年我們都會遇到不同程度的中暑病症.
The cases that lead to death can be very stressful to deal with for all parties. Seeing the dog or cat suffer is very unpleasant. From this experience prevention is definately a better option over cure. Make every effort to keep the living space for your pet as well ventilated as possible. Do not assume that if your pet is away from the sun, that they are safe from heat stress. A still, non-ventilated room will be very stuffy.
由於中暑會嚴重影響寵物的健康甚至死亡,所以預防勝於治療.寵物的居住空間要儘量安排在空氣流通的環境裹.不要以為沒有太陽的地方就等於不會中暑,空氣不流通的房間也是十分悶熱的.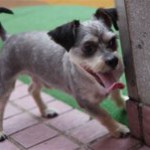 If your pet is active for any reason; perhaps playing or overly excited about something, it's body temperature can rise very quickly under these conditions. Your pet dog still needs it's exercise even during the summer months. You must be extra cautious in preventing your dog from over exerting itself.
Try to avoid prolonged outings during the hottest time of the day. Midday is generally not a good time to go out for long runs! Try to arrange early morning or evening walks when the weather has cooled down a little. You may have a dog who happens to be very excited and happy when it comes their daily exercise. They will be very active whether it is a hot or cold day. You need to monitor these dogs very carefully.
如果你的寶貝是一隻十分活潑好動的寵物,體溫很容易會在玩耍或過度激動時迅速上升.當然寵物在夏天裹仍然雖要適量的運動,但作為主人的你,就要特別當心牠們過度活動. 嘗試避免在天氣最熱的時候外出,尤其是中午!試試安排在清晨或夜晚外出,因為室外溫度相對比較涼快,可能你的狗狗每逢出外都會極度興奮,那就要小心留意狗狗的狀況.
If the dog is panting excessively it might be time to settle the dog down. If it is off the lead it would be a good time to put the lead back on so you have better control.
如果你的狗狗開始喘氣,那就是令牠冷靜下來的時候.如果你習慣放繩由牠自由活動,這時是時間扣回狗繩令牠慢下來.
It would be a good idea to carry water with you. A good way to cool down is to have a good drink of water. If the dog is near water it may be a good time for the dog to go for a swim t o cool that body down.
另一個好的方法是帶備充足的水,隨時任寵物渴水是可以幫助降溫.如果剛巧附近有水,這是一個游泳的好時機了!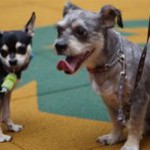 Filed under: Pet Problems,Uncategorized
Trackback: Uri